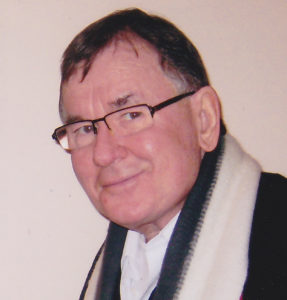 Father Peter McGrath cp passed away March 3rd, 2018 aged 78. Over a 1,000 people attended his funeral masses at St. Anthony in the Fields Terrey Hills and St Brigid's Marrickville. Tributes came in from America, the UK and all over Australia. Most of us knew him from the early days of the Passionist Family Group Movement. But his dear friend Father Kevin Dance cp knew him for 50 years. Kevin's words in describing Peter during the St. Anthony's eulogy were honest, loving and moving. He began with:
"You and your priesthood have been a quite extraordinary gift to so many people.
The scripture chosen for this moment of farewell and giving thanks says a lot about your colourful, complex but, finally, very simple life Peter.
Paul writes to his young supporter Timothy: "I have fought the good fight. I have finished the race" Earlier in this same letter Paul encouraged Timothy to "endure hardship as a good soldier of Jesus … It reminds me of one of your constant words of encouragement. It was simply: "Press on!"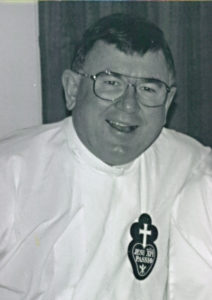 And Peter did "Press on"! From his Ordination on 11-07-64 at St. Brigid's Marrickville, he went on to teach at St Ives Monastery from 1964-1970, then at Sydney Catholic Teachers College in the 1970's, became Administrator of St. Anthony in the Fields, Terrey Hills 1972-1989, and founder of Passionist Family Group Movement in 1972. He was Provincial of the Passionist Order, Holy Spirit Province from 1984-1991
Many of us remember well his popular radio show on 2SM for 5 years, 2UE one year. Some of you may have even been a guest on the shows! Peter was also a lecturer at UTS (University of Technology Sydney) teaching conflict resolution and communication skills. He even made a video there with Mike Minehan back in 1990 called "Speaking in Public". This ability as a communicator meant he was able to move people into action very quickly. To quote Father Kevin Dance again:
"Jesus reassured his friends, caught in a whirlwind of emotions, as he prepares to say farewell: "Trust in God still and trust in me. there are many rooms in my Father's house". Peter, you were constantly finding room for just a few more – to the frustration of those around you who had to do the hard work, out of your whirlwind, of getting things organized, of keeping the show on the road. "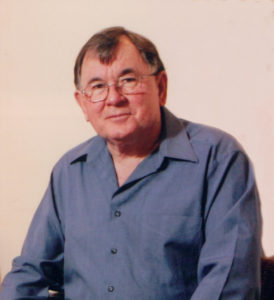 Peter had a talent for bringing out the best in people, even when they didn't recognise it themselves! Just yesterday, I met up with Jayne Eustace in London. She was one of the original Family Group leaders from St Joseph's in London. We were looking back on how Fr. Peter had changed our lives forever.
Back in 1997, Jayne was recently widowed and was in the church at a meeting when she walked by Father Peter holding forth in another room. He spotted her, dragged her in, sat her down while he talked about family groups. When he finished, he brought 6 people up to the front, including Jayne and said "Here are the new FG leaders, 10 people went up and joined Jayne's group. Jayne had been going to St Joseph's for 30 years, and only knew people on a nodding acquaintance. From then on relationships formed and the parish became a family for her.
I had a similar experience the first time I attended St Anthony in the Fields, Terrey Hills. Peter came over and talked to me for a few minutes and then said: You will be great on the Terrey Graph team; you are now assistant editor! I had no idea I could write! But Peter apparently did. So, I worked on that newsletter with great joy for several years before moving to London. I am sure there are 100's of similar stories of how Peter got people to do things they had no idea they could do!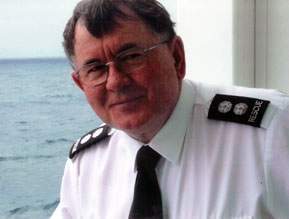 Peter also had a broad community outreach, like The NSW Rural Fire Service for whom Peter was a chaplain from 1972 until 2016. Some awards in recognition of his service to community were:
Cert of Merit UNDA USA 1983-84 For public service in the Art of Communication Boston, Mass.
Media peace prize 1984 Peace Programme United Nations Assoc. of Australia
LIFO accreditation 1995 St. Michael's College St. Louis Missouri USA
1995/96 Recognition from the Commonwealth of Pennsylvania – for his services at Dallas, Pennsylvania Correction Institute
OAM (order Australia) Australia Day 26 January 2011
I can think of no better way to end this account of Father Peter McGrath's life than to quote his Passionist brother, Father Kevin Dance once again:
"You have known triumph and you have known rejection. But through all the high- points and the low ones, you have grown in an understanding of the sea of suffering and the sea of love that is the Passion of Jesus. And over-riding everything else is your compassion. Your sensitive Irish nature, with the black cur of self-doubt stalking you and nipping at your heels, has sometimes made it hard for you to relax and be in your life.
So, I salute you for your years of loving service – preacher, parish priest, Provincial, Founder of a movement and man of quite extraordinary generosity. After some quite rough seas that you have weathered, I pray that you can look at this journey with deep thankfulness and gratitude for connections made, for friends gathered, for desperate souls eased, for the vision shared.
Well done Peter, earthen vessel, but, most assuredly, vessel of God's compassion and love! So, press on, my brother and friend, into the welcoming arms of our God."
Brenda Gottsche