On Sunday Feb 25th 2018, St Anthony in the Field's, the little church and parish where Family Groups were born saw a most wonderful celebration for the retirement of Mary Ingham after 46 years of involvement in the birth, development and support Passionist Family Groups in Australia, New Zealand and in a smaller way in the USA, England and Ireland. The gathering was co -hosted by the PFGM Interim Leadership Team of Denis Morris, Marion Stewart, Frances Sullivan and Russ Winterscheidt and the new PFGM NSW Directors, Tony and Annette Guterres.
PFGM Directors, Parish Coordinators and PFGM members from NSW, Canberra, Queensland and Victoria were joined with Frs. Brian Traynor, Kevin Dance, Ron Davoren, Lex Keys and myself to honour and thank Mary at the Mass for her and her family.
Very much present in spirit and mind and heart was Fr Peter McGrath the founder of the PFGM's and the first P.P. of St Anthony's.
Mary sat with the choir singing for the celebration, leaving Leo, her husband, and their three children Elizabeth, Anthony and Catherine and their children in the front seat.
Fr Kevin was at the adult faith formation retreat in 1972 in Leura where the idea of PFGM's was born. The people on that retreat came from the newly born parish of St Anthony's
.
Ron Davoren was the first curate appointed to be with Peter McGrath in the parish.
Lex Keys was for 30 years at St Ives Monastery which was a second home to the parish and its offices.
Brian Traynor was instrumental in the extraordinary growth of the Family Groups from St. Anthony's and then Castle Hill to the great movement it is.
The spirit of joy and family, laughter and tears, that filled the Church reminded everyone of us of those fantastic days when we the Passionists and the parish were together, and that we find wherever the Passionist Family Groups gather.
Denis Morris and Brendan McNally (from one of the original 1st three family groups Mary began), spoke very emotionally of the debt we owe to Mary for her great love and generosity.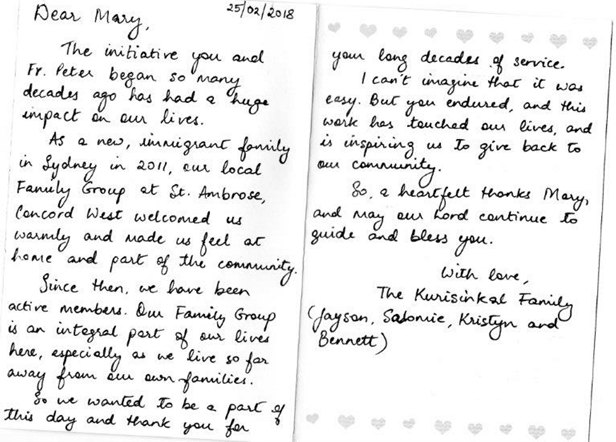 Mary typically expressed her sense of privilege to have worked with so many, many wonderful people throughout so many parishes and countries. She expressed her appreciation for the 46 years of partnership with Fr Peter McGrath, with her own NSW team, with the other State Directors over the years, and the team and community at Grace Cottage.
Mary received this card from an Indian couple and their children, ordinary PFGM members. It tells why the Passionist Family Groups mean so much to so many.
In Christ Crucified
Tom cp
Provincial Superior