The following is Fr Peter's version of how the Statue of Mary has come to rest at Grace Cottage. It was written from Grace Cottage on the Feast of the Assumption, 2007 by Peter McGrath. Please come and see the statue for yourself one day.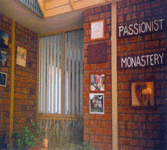 The Dawsons have been at the very foundation stones of our Passionist Family Group Movement. While St. Anthony in the Fields, Terrey Hills was the tiny parish of origin, the Passionist Monastery at St. Ives was the Spiritual dynamo.
Many functions, parties and retreats occurred there. The Cloister was awash with laughter and sharing from hundreds of people coming from the Family Group parishes. Many stories can be told of those humble beginnings.
Amid all the chaos and empty cans, "Blessed Mary" atop the garden pond and rockery kept a watchful eye over all the proceedings. I'm sure it was her influence that stopped people from falling in the fish pond and remaining friendly as brothers and sisters together.
When the unimaginable happened, when the Monastery was not only closed but the Cloister was demolished, Greg and Elinor Dawson blithely stole the statue of Mary and hid it in their back garden.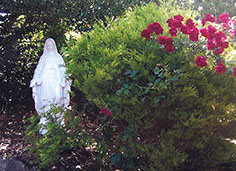 When I discovered this several years later, I sent the Ballesty boys round to pick up Mary one Saturday afternoon. They drove their black and chrome ute up the front driveway at a hundred miles an hour; screeched to a halt and excited the monster with dark glasses, shaven heads and blue singlets.
Greg was quietly resting. Naturally, Elenor was out the back gardening. My boys knocked on the front door and gruffly asked a stunned Dawson , "We've come to pick up Mary." Being hard of hearing, he said, "She's round the back gardening."
This story does not end there. The Dawsons also pinched the sign from out the front of the St. Ives Passionist Monastery and proudly display it on the front wall of their mansion in Perth . Greg says that the way he lives under the Abbottess merits the Monastery sign at the front door!