Requiem Mass of Thanksgiving For the life of Father Peter McGrath CP
St Brigid's  Marrickville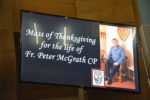 Father Peter was farewelled by his Passionist brothers and sisters at a Mass concelebrated by a number of his confreres. Also in attendance were diocesan priests and former Passionists together with parishioners from St Brigid's and others throughout Australia and New Zealand.
Father Tom McDonough CP, Provincial, was the principal celebrant and Father Tony Egar CP, a classmate of Peter's, gave the homily.
Father Tony recalled how they first met as 17 year old seminarians and that Peter was "quite a pious lad from Blacktown, very intent on living out his calling to the Passionists." He invited us to give thanks for every gift that Peter used to serve others: from his gregariousness, his ability to communicate, his insights and sharp intellect, and his great compassion. He reminded us of St Paul's parable of the potter and the clay and how the "genius of Peter's ideas enriched so many thousands of lives over the years."
Father Tony also spoke of the "shadow side of ourselves…. the journey for Peter at times, was so difficult in many ways,….But this too is how God shaped Peter."
"at the end of the journey, what stands out most to me…. is the legacy of faithful friendship that Peter leaves behind. To leave that legacy of firm, strong and loving friendships is indeed a 'sign' of the work of Jesus' Spirit in Peter's life. At this moment, forgiveness, which is at the very heart of the life of God, reigns supreme, in our relationships with Peter".