I am a member of the new Family Group at St Agatha's Parish Pennant Hills. We had our first meeting with Margaret & John Tibbits, in their home, and we had a lovely evening together, where we shared rather a lot about ourselves. It seemed a time of promise and over a cup of tea we decided to arrange our first outing – a picnic at Putney Park, on the Parramatta River.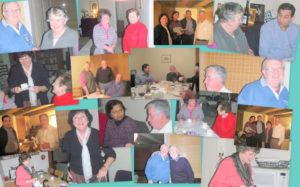 Chris and Tom arrived ahead of time to see whether they could secure a table for the group! They were almost "lucky!" One table had a lone gentleman reading his Sunday newspaper. Tom had to give "it a go" and brazenly went up to him and enquired whether he would be staying long. To Chris' embarrassment (as usual), the gentleman proudly said that He was reserving the table for their arrival.
Tom was a little concerned that the group had gone to another part of the park and left Chris holding the now newly claimed fort. He was utterly amazed at the welcoming he received from the many groups he approached. Not knowing quite a few family group members he really didn't know whether these people were a part of St Agatha's. He reckoned that he could have had at least four nourishing breakfasts. He chuckled when the people of the groups realised that he wasn't part of their family.
Finally, the two saw a familiar face coming down the path-Sue with her friend Isabelle. All were watching eagerly as the others turned up. By about midday, seven people were chattering away over drinks and lots of yummies, getting to know each other!
By one thirty, all were feeling rather peckish and lunch was delivered to the table and what a feast! It was wonderful to see how everyone was eager to share their culinary triumphs offering so many different tastes!
More than anything else, it was amazing how everyone just clicked together-especially when discussion turned to revealing some treasured aspects of individuals' lives and how they would like to express themselves in the group! Very deep-but extremely rewarding!
After lunch, they all went for a walk along the water's edge and headed towards the ferry at Putney. Tom and Kevin chattered about the best "fishing spots"-something which they thought could be an outing in the future-perhaps at the beach, when they came into Spring with its invitation of warmer weather!
They had no idea that it was getting so late-it's a wonder where time goes when you're absorbed with each other-ah!-remember those courting days! What a wonderful beginning!
Warmest regards,
Tom Connolly