My Dear Family, One and All,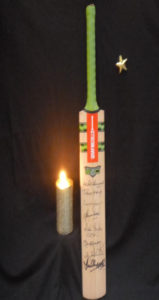 Who can forget our young Australian Cricketer, PHILLIP HUGHES, who was struck down and killed by a rising cricket ball while batting? Who can forget the sight of the hundreds of people quietly marching behind his coffin in sorrow and support?
Why would I begin a Christmas Message of Hope as I have?
Many times I heard people say that Phillip Hughes would be looking down from Above, and amazed at the number of people who came to his funeral and the millions who were watching around the world.
The Australian Captain returned to the Sydney Cricket Ground and stood on the exact spot on the pitch where Phillip was felled. He touched the grass and felt the spirit of Phillip picking him up. At the funeral he spoke for all his mates and us, "Rest in peace, my little brother. See you out in the middle."
Even in this terrible tragedy and loss of a young man struck down in his prime, there is Hope. This Hope is quite amazing and shared by so many. But where does it come from? How is it associated with Christmas?
The answer is so simple- an infant – a tiny baby born in a stable over 2,000 years ago. A Light was born into the World never to be extinguished.
A Light that promised each of us Eternal Life.
We rush around buying presents that aren't needed and food that is often wasted. We get so caught up in trivia that we fail to see the deep significance of Christmas.
We press on. Turn our face to the Light. Seize every opportunity to welcome the stranger with warmth. Become more and more a community that cares.
This challenge lies before us, calling us to action in 2015.
Your loving Brother,
Peter