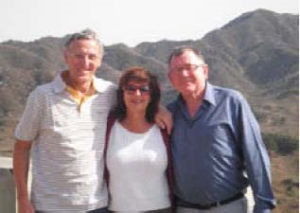 I guess it was 1988 when we joined the Lunnon Family Group, having been members of the St Anthony in the Fields community since 1983. We'd migrated to Australia in 1981 and after a couple of house moves ended up in Terrey Hills, where by 1988 our three children were at primary school.
St Anthony's was a special place for us as a family and joining a Family Group, capital letters or not, seemed a natural thing to do. We had a new group of friends, some of whom would become good friends, some of whom we would see only at family group functions but who were, nonetheless, friends – pretty much like a normal blood-and-marriage related extended family.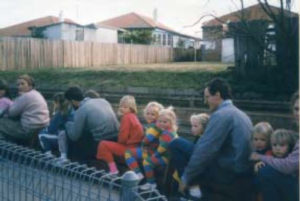 Life seemed good for most people in the FG most of the time. We'd try and offer mutual support of an appropriate sort
when things weren't quite so good for some – cooked food, some handy-work or gardening, moral support at times of stress or loss and so on. Again, as in all families, not everyone got the support they may have needed and not everyone was heard as they might have been heard. We're human and imperfect, even in Family Groups.
In 1995 we were posted to India on what was proposed as an 18-months assignment. Our FG gave us a huge and very memorable send-off party, with friends from 'the outside' (i.e. non-FG) also attending. 18 months? Hah! The expected return to Sydney in 18 months turned into an onward assignment to the UK after four years, then on to China after another seven – and here we are six years on, still in China and still working for an Australian company.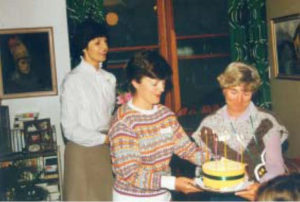 We have been delighted over the past 17 years to remain part of our FG. We're not the best in the world at keeping in touch. Sending annual Christmas cards to everyone in the group could never have been a criterion of remaining part of the group – even Auntie Maud in Newcastle doesn't get a Christmas card from us. And we're close enough to being dinosaurs that Facebook is out of the question and even chatty e-mails don't come naturally. So what makes us think we stayed part of the FG?
Well, we did make regular trips back to Aus and always took the opportunity to catch up with one or a few FG members. And that was because we wanted to see the people and knew that we'd get news of others and that our news and our best wishes would
be passed on. Our two daughters also, when back in Sydney, have caught up with FG members, enjoying the welcome and suffering the shock of seeing myriad photos and records of past events when they were 20 to 25 years younger.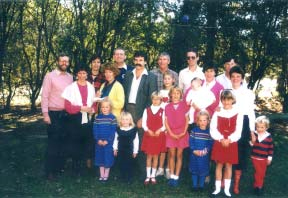 And lastly, and to our great delight, we have been able to act as host to FG members travelling in India, Europe and China. People travel and it is always good to know someone in a strange place – on a business trip it may be only a quick meal together and knowing a local phone number that can be called on for any reason, but if time has permitted, we've had people stay for several days or more – including, memorably, Fr Peter McGrath.
Being recently semi-retired (a wonderful state we can recommend to anyone who can persuade their employer to let them do it!), we recently spent 4 weeks in Australia, mostly in Sydney. For the first time in 17 years, we were able to contact almost all the FG members from 1995 and arrange a get-together at the Lunnons – just like so many times before!
We were so appreciative that almost all, some 20 people were able to come to the party and share their food, drink and stories. We hadn't seen several for 17 years – though we weren't that many years out of date with their news, thanks to reasons given above. It was like it was yesterday that we had left. We all naturally agreed that no-one had aged a bit. Everyone had moved on in their lives – children leaving home, children marrying, retirement looming or loomed – but the FG had remained part of their lives, as it had ours.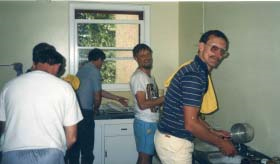 To us the FG is not something we have ever thought of as 'must do this', 'must join that activity', 'must contact so-and-so' – it's a group of people who have similar beliefs about the value of community and family and who are 'there for us' when and if we have a need, just as they can count on us for friendship and support. We are a family.
Edgar and Chris Baines
Family Group members St. Anthony in the Fields