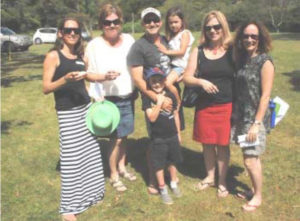 What a great day it was! We were blessed with perfect weather for the reunion. 55 turned up to reminisce and renew friend­ships which had started decades ago through the vibrant youth groups at St Anthony's.
The reunion held a true sense of community as we gathered on a bright and sunny spring day. There was no better place than in the fields of St Anthony's. Our thanks to Fr. Jose for granting us permission to use the grounds of the church for this day. We were honoured by his enthusiasm and encouragement of this special time.
During the afternoon, many took the opportunity to wander into the church and take in the old familiar setting, to feel the Spirit and to remember all those years ago when we were kids. It was certainly a family affair with more than two generations represented in many families present. The Richardsons, the Sheerins, the Clarks, the Brannans, the Owens, the Hayes and the Atteridges, all boasted three generations. Martin Brannan cut a familiar figure with the camera draped around his neck too. Thanks for the photos, Martin!
Clusters from some eras were evident with Phil Marnoch's crew seeing faces like Caroline Smythe (Clark) and Louise Kocass (Clark) Sharon Williams (Connors) and her three kids, and Dale and Alex Hayes (Alex's parents Andy and Patricia were also present). Siblings Tim and Claudia Lennon caught up with Catriona Croghan (Owens) and her husband Michael and their two young boys. Catriona's parents Grace and John were also present.
With the Sheerin clan of Colleen, John and Bec, was her sister Joanne Fay. Martin Carroll made an appearance as did Cath Smith's daughter; Suzanne Potts and Katie Chalmers (Dutfield). It was great to see long time youth group co-ordinators Peter and Wendy Scott and their daughters for the afternoon.
Some still with an active role in St Anthony's were there. Kate Ryder (Brannan), a St Anthony's representative on the Parish Pastoral Council, with her two children; and Jo Reid who is currently organising this year's Christmas pageant at St. Anthony's, was also present with her two girls.
Whilst we caught up over lunch, the many children and toddlers enjoyed playing with sports equipment bought along by Bec Sheerin on the day.
As chance would have it Father Peter drew our attention to the presence of Mark and Carla Patterson (nee Seaton) who met in the Young Adults Group (YAGS) of St Anthony's in 1980. They were celebrating their 25th Anniversary on this very day.
Everyone, young and old, had a chance to catch up with Fr. Peter McGrath, Passionist Parish Priest for 18 years at St. Anthony's. Many of his Passionist brothers, who had spent time at St. Anthony's, had sent their regards and good wishes for this day. Sr. Leonie Martin RSM, who was a part of the Parish Team for many years, was warmly welcomed by everyone.
After lunch Fr Peter spoke of the very human aspect of our gathering in community, highlighting the days gone by and talking of what this little Terrey Hills community has achieved. Our participation back then has led many of us to careers working full time in fields that cater to, and protect, the marginalised in our society.
Those present indicated that they would like to stay connected as a group and we agreed to attend the Christmas Eve Vigil Mass at St. Anthony's commencing at 6pm, bringing picnic blankets and nibbles to share outside on the lawn after Mass, as in days of old. For 2015 we have a booking for a weekend at the Gerringong Christian Brothers Centre.

Thank you to everyone who assisted greatly in the day: the working team of Julianne Grant, Lisa Macgregor, Holly Atteridge and especially Bec Sheerin. Many thanks also to Barbara Lunnon for her tireless efforts, to Chris Coape-Smith and Dave Ryan for helping us set up on the day, and to Bob Lunnon for manning the BBQ. Thanks especially to everyone who came along. It had truly been a GREAT DAY to gather in a true sense of Christian community!
Adrian Brannan