Mass of Christian Burial Father Peter McGrath CP
St Anthony in the Fields
Terrey Hills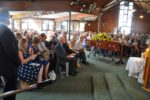 Father Peter was farewelled by his beloved St Anthony's community and his Passionist Family Group brothers and sisters at a Mass that was concelebrated by both his Passionist and diocesan brothers and attended by approximately 900 people who came from various parts of Australia and New Zealand.
Father Tom McDonough CP, Provincial, was the principal celebrant and Father Kevin Dance CP, a friend of Peter's for over 50 years, gave the homily.
Also in attendance were Peter's sister Anne, her husband Vince, and three children Peter, Daniel and Louise. Bishop Commesoli (Bishop of Broken Bay Diocese) was present together with priests from Sydney and Melbourne and a number of former Passionists.
There were times of laughter, tears, love, stories and memories and, of course, a sense of loss, but also a sense of peace and gratitude that Peter was at rest.
Father Kevin Dance spoke of the extraordinary mixture of gifts and failings, confidence and doubts, out of which Peter's life was woven.
The reflection included a photographic presentation of Peter's life, and, finally, the Commissioner of the Rural Fire Service spoke of Peter as both his family's pastor during his youth and as chaplain of the Service for 44 years. The members of the Service formed a Guard of Honour for Peter.