It's all in the fingers …
Turning 70, there is no way I can count that many years on my fingers any more than I can count all the blessings that I have received over the years.
I want to say a big Thank You to all of you who prayed for me, sent best wishes, came to our Mass and party and, in so doing, not only honoured yours truly but in particular my family and my beloved Mother and Father, Joe and Dorothy McGrath.
What a night it was. Your generosity knows no bounds and the spirit of love and friendship shared among all was the palpable presence of the Risen Christ. It is at such times that the intensity of Christ's love reaching out to everyone helps me realise how you carry His Spirit always in your hearts. This is true, grassroots, down-to-earth Holiness.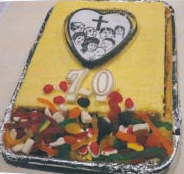 For those who were not at the Mass at St. Anthony's, I want to reassure you that I am still loyal to my beloved Parramatta. I wore the blue-and-gold sock. However, with age comes wisdom. When you're 70 it's hard enough to walk on two legs and impossible on one. So I also had a sock on the other leg – the maroon-and-white of the mighty Sea Eagles. When I revealed this to the congregation at the blowing out of the candles (I had to get the children to help me here!) a great cheer went up. I thought, "You Beauty" – "what a time to take up another collection!" I hasten to add, we already had taken up the Sunday collection for our Frenchs Forest Parish.
I'd like to conclude with the wonderful words that came from our Family Groups at St. Brigid's Marrickville:
• Many people walk in and out of your life, But only true FRIENDS will leave footprints in your HEART.
• Family Groups are one of the places where people become friends and indeed leave footprints in our heart.
• There is still so much work to be done and thank you, Peter, for continuing to share your vision and passion with so many.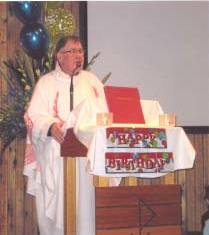 As I now travel overseas for Family Group work in the UK and the USA, I ask you to remember me and the work in your prayers. There is a special privilege and joy that I have been granted this year at the Dallas State Prison in Pennsylvania. I will give a full-day Retreat for our "Brothers for All" who were actually the first Family Group in the USA; and, more especially, the Superintendent has granted me permission to say Mass for the men of the 4,000 inmate population.
As a Passionist who has been travelling there for 17 years, to offer the Sacrifice of the Mass, the Memorial of Christ's suffering among these forgotten souls, many of whom have been in prison for decades, is to reach in to the very heart of Christ's suffering and Passion.
May that Passion and the Resurrection of the Lord fill your hearts with peace and the warmest of love, knowing that He is as close to you as the beating of your heart.
Your brother on the road,
Father Peter cp